A Passion for Kids Meditation: Me and the Moon
Category: Meditation for Students and Families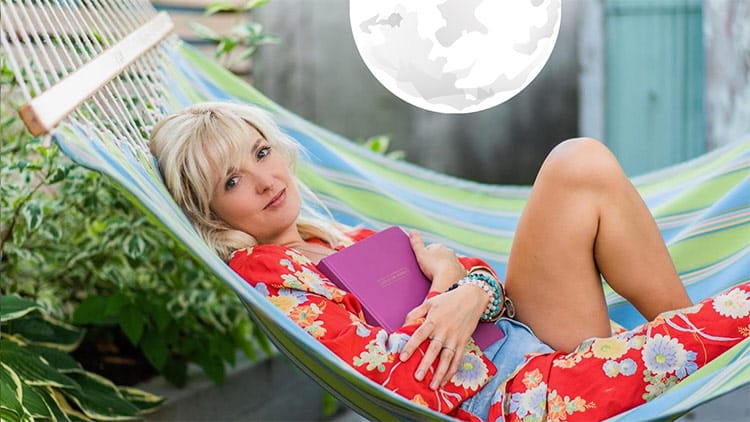 Taes' journey of self-exploration and intimate study on meditation for kids
This is a profoundly moving guest article by our friend Taes Leavitt, whose passion and creativity for meditation for kids knows no bounds. It's a deeply genuine and heartfelt reflective poem complete with the whole rainbow of emotions that only Taes can evoke: From wrenching despair in an alley, to a deep self-reflection, to insight that became a whole series of meditation practices for children, to a passion for writing and teaching meditation for families—this is an honest and insightful journey. It's so true that we often have to find rock bottom before we're able to climb, and the very perspective of the bottom gives us the leverage to eventually soar. And Taes shares that raw, difficult and inspiring transformation with us through her reflections.
But first some background on Taes. With over 15 years of experience working with kids in the entertainment industry, Taes has created a career she loves based on her love for children and desire to foster connection through music. Taes is also known as the "Boots" half of the JUNO Award-winning children's super-duo of Canadian Music, "Splash'N Boots."
Taes has devoted the last 5 years to exploring and studying meditation for kids, including mindfulness and dance. Through her research, Taes realized that traditional notions of meditation and mindfulness were not accessible, realistic, or 'fun' for kids. Her personal journey into meditation and her continued research in this area inspired her to create a mindfulness program for children and their families which re-invents traditional practices and turns them upside down to create an edgy, innovative meditation program that is accessible and fun for children and their parents.
Taes continues to write and produce meditations for kids and their families and plans to expand her writing to create meditations for teens and adults. She is also in the process of creating an interactive show for kids and their parents that will focus on connecting and moving through all of life's big feelings through meditation and mindfulness practices. She remains committed to raising awareness for important causes and giving a voice to vulnerable children to ensure they feel seen, heard and fully self-expressed.
ME AND THE MOON
It's 2 am, I'm sitting in an alley and
I'm having what my mom would call
"A big cry"
The kind where you just give in
To the cry, give in
To the ground, give in
To the darkness.
The only light is the moon and
I'm looking up at her and
I'm dressed up from a work event;
Just an hour before I was there,
Smiling, (not a tear in sight!)
looking like a person who
Has themselves together and
Now I'm a mixture of
running mascara and snot
(it's a good look) and I'm
Wailing at the moon and
I'm pleading with her
to help me.
In that moment;
me and the alley and the moon
I have never felt so alone.
I remember wondering if I might disappear
I remember wondering; if I did would that be so bad?
……..Did I just think that?
WHAT IS WRONG WITH ME!
I have a very good life;
I'd married my best friend very young.
We were also business partners and I had my dream job;
Traveling and singing for children.
We have a television show.
I couldn't imagine doing something I loved more
With someone I loved more
Yet somehow, here I was,
in the alley,
wanting to disappear.
As I was looking to the moon for support
As I was looking to the moon for a hug
I imagined what I must look like
From up there.
How very small I was.
How very big the world is.
Suddenly, I was the moon
Looking down at myself
In the alley and
In that moment,
I felt connected to something larger than myself,
I felt the expansiveness of the earth
In that moment,
I knew I wasn't alone and I
Stopped crying.
I picked up my phone and I called my best friend.
"I am not ok. Can you come get me?"
This began my Big Heart Journey.
I did a deep dive into my brain.
I went to therapy, I took courses
I burned sage and danced and chanted and
read most of the self-help section at Indigo.
I cried, I apologized,
I got (more) honest with myself.
I got divorced
(new title: best-friend business partners, suits us much better)
I felt the shame, I felt the failure and
I moved through and suddenly
It's 2am, 2 years later and (I'm not in an alley)
I had just left another work event and
Instead of a snotty wail
It's more of a gentle sob and
I'm feeling disconnected and exhausted and
It's just me and expedia and my credit card
Looking for space to be alone.
I book the cheapest ticket for the next day,
I pack 12 books and a bathing suit and turn off my phone.
I'm going to start MEDITATING.
I announce (to my air b and b room)
People say good things about it,
So HERE I GO!
I sit there, silently (impatient)
every morning.
(counting down the minutes until it ends)
I think about everything.
(never nothing)
I'm not impressed,
(but also determined)
I meditate,
I jump in the ocean
I meditate again.
I notice a space grow,
a calmness inside me.
I start to look forward to
This time with myself.
I feel different.
I feel clearer.
Space opens up between
Me and my feelings.
I'm inspired by the moon
I'm inspired by the children
I meet and I cannot stop talking about it.
I WANT EVERYONE TO MEDITATE NOW!
Three year olds, their parents, grandparents,
Full family meditating!
It's 2am and I'm excitedly writing meditations
I'm excitedly writing
A journey for families,
A program,
A way of living.
For me, it's a culmination of
Moments that began in
The alley.
The Big Heart Journey,
Is more than meditations.
To me,
It's a feeling:
I want every child to know
that there is someone in this world
rooting for them
every single minute of the day
I want every child to know that
When they feel nervous,
When they feel scared,
When they find themselves sitting alone,
Their hand is always being held.
In all of their feelings,
In all of the dark spots
In every up and down of their Big Heart Journey
I want them to know that
They are never alone.
I want them to know that somewhere in the world there is
Someone who loves them so much.
Someone who loves them so intently
That when they have forgotten who they are
(because we all forget who we are sometimes)
They will be reminded that:
You are special and YOU
Are important and YOU,
You are going to be ok.
Someone who is there for them at every single minute of the day.
Loving them, not for anything they do,
But just for who they are.
That just by simply being themselves,
And learning to love and move through
Every feeling that comes up
They will grow up with a deep sense of knowing of who they are,
They will be confident and self expressed.
They will be resilient and they will be kind and
They will know how to cultivate their OWN joy.
They will know that this is THEIR life to live.
They will be happy, and connected to
What matters,
Connected to themselves and connected to the world around them
They will have the deep knowledge that
They will be ok.
I want every child to know that
When they are in the dark parts of their lives
(because there will be dark parts)
That they are not alone.
They have everything
they need inside of them.
When they look up, they know
That they are a part of something
Much bigger than themselves.
When they look up at the sky
And it feels as dark as it did to me, in that alley.
I want to be their moon.
——————————————————————————————–
If you're interested in meditation for kids, check out Taes' newest project The Big Heart Journey.  Through her limitless creativity, she explores teaching kids mindfulness through videos and creative exercises that honor children's feelings and help them feel that it is okay to be just the way they are.
Photo credit: Farrell Rafferty