Top 10 Celebrities Who Meditate
Category: Beginners Guide to Meditation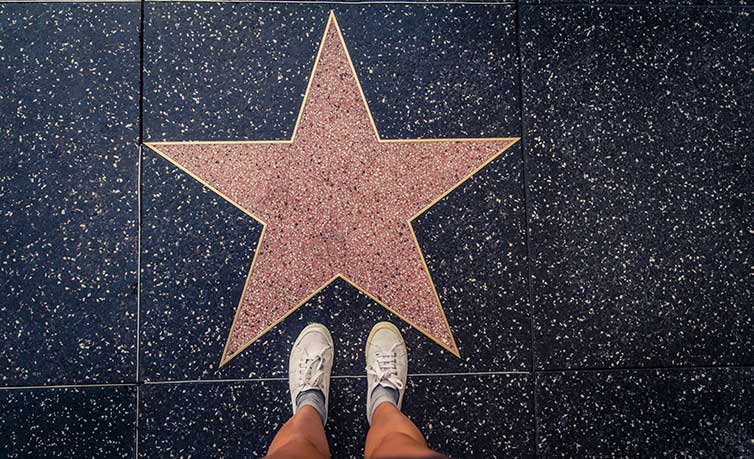 Meditation is no longer the exclusive domain of yogis and seekers. Many ordinary folk are embracing the practice – and so are celebrities. Famous people get as much out of sitting as the rest of us: peace and tranquility, enhanced creativity and insight, better control of emotions, general well-being… and the A-list goes on.
Still, we're all a wee bit fascinated by the rich and famous. Ever wonder which ones are meditators? Here's a brief sampling of the many famous folk who swear by the benefits of their practice.
Our list of 10 famous people who meditate:
David Lynch
Director David Lynch, renowned the world over for his unique and shadowy directing style, has been practicing Transcendental Meditation for 45 years now. He has a foundation and a TM website that extol the virtues of this technique. In his message on the website, Lynch says, "I started Transcendental Meditation in 1973 and have not missed a single meditation ever since. Twice a day, every day. It has given me effortless access to unlimited reserves of energy, creativity and happiness deep within."
Michelle Yeoh
International film star Michelle Yeoh, named the "#1 action heroine of all time" by Rotten Tomatoes, was born to a Buddhist family in Malaysia and has always maintained her spiritual practice. A great philanthropist and ambassador for humanitarian efforts, Yeoh speaks easily of Buddhist philosophy and its place in her life. "As a Buddhist, your family is not blood-related, the whole world is your family. It is enlightenment that you practice upon," she once stated in an interview.
Russell Simmons
American hip-hop pioneer and co-founder of Def Jam Recordings Russell Simmons meditates! The entrepreneur loves sharing his appreciation of meditation with others. He believes that meditation makes people happier and allows them to connect with the world. He refers to it as "the most beautiful gift" and an effective tool that can help us achieve our dreams. "It has given me energy, strength, health, wisdom, and access to my own inner stillness, inner silence, inner bliss. It is my connection to myself; it is my connection to the universe," Simmons has said.
Tim Ryan
In an interview with Salon in 2013, Congressman Tim Ryan (D-OH) spoke of his meditation practice, saying "It's not woo woo," and, "If this can help me, a half-Irish, half-Italian quarterback from Northeast Ohio, it's for everybody." One of a number of politicians who have embraced mindfulness practice of late, Ryan has gone a step further – he authored a well-received book called "A Mindful Nation: How a Simple Practice Can Help Us Reduce Stress, Improve Performance, and Recapture the American Spirit."
Ray Dalio
Investment firm Bridgewater Associates' founder Ray Dalio is an American investor and philanthropist who started from humble beginnings. He began practicing Transcendental Meditation back in 1968 when he learned how it had influenced the Beatles. Dalio understands the science behind meditation, often explaining how this practice affects the amygdala and the pre-frontal cortex in the brain. During an interview with the Wall Street Journal a few years ago, Dalio was quoted as saying, "Meditation more than anything in my life was the biggest ingredient of whatever success I've had."
Oprah Winfrey
In 2011, Oprah invited several meditation instructors to her production company, Harpo Studios. These instructors led the staff through guided meditations in the mornings and after working hours. Oprah has been meditating ever since. She believes that achieving stillness within ourselves and reconnecting with our core centers is more important than what we do for work. Speaking of her appreciation for meditation, Oprah was quoted on Huffington Post as saying, "Knowing that stillness is the space where all creative expression, peace, light, and love come to be is a powerfully energizing, yet calming experience."
Jerry Seinfeld
Just like David Lynch, Seinfeld has been practicing Transcendental Meditation for over 40 years. Seinfeld, notable for his likeable personality and great wit, believes that meditation allows us to take things easy. He once likened meditation to having "a charger that charges your entire mind and body" and says he owes his career in television – and his good nights' sleep – to meditation.
Michael Jordan
NBA legend Michael Jordan learned to meditate under the guidance of mindfulness mentor George Mumford, who was invited by supercoach Phil Jackson to work with the Chicago Bulls in the 1990s. According to an article in the Huffington Post, "Michael Jordan said 'that Zen Buddhist stuff' really works! But [Mumford] didn't teach Michael to push distractions away, but instead to embrace them, to become fully aware, noticing and observing everything around him, and then to let it all go; stepping out of his own way and taking the perfect shot." And the rest is history.
k.d. lang
Grammy award-winning singer k.d. lang, who was recently tagged for the 2018 Americana Trailblazer Award, has been practicing meditation since 2000. When asked about the benefits of her practice, lang said, "I find meditation helps to clarify and calm stressful situations. And in turn, my confidence is elevated, and my communication skills are more effective and positive. I can access more compassion for myself and other people, and erase the line dividing myself from others."
Russell Brand
The British actor and comedian has been meditating since 2009. He admits to being an erratic thinker who is full of energy and adrenaline. After he meditates, however, he is filled "with a beautiful serenity and selflessness." Brand, who leads "tantric meditation practice" in a yoga studio in West Hollywood, believes that spiritual practice, whatever the form, can benefit everyone.
If these celebrities can find the motivation and time to meditate, so can you!