5 Best Places for Meditation
Category: Beginners Guide to Meditation | How to Meditate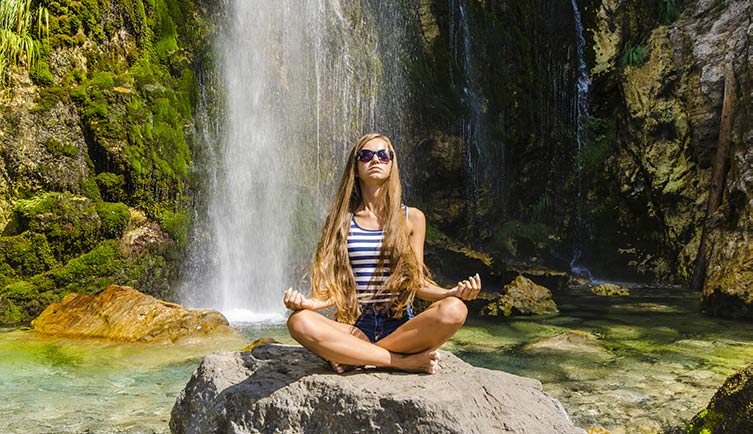 Where Would You Love to Meditate?
Ready for a real journey to uncharted territories? It's time to sit! And where are the best places to meditate? A quiet room definitely counts, but there are plenty of other good choices out there. The best locations aren't necessarily the most exotic – they're the ones where you can let your inner adventurer roam free.
Adventure travel doesn't always require daunting mountains and formidable jungles – sometimes all we need is to dare explore our inner terrain. We often spend so much time focusing on the world around us that we forget to spend quality time discovering our own thoughts, feelings and desires.
Here are 5 meditation places we love:
The special meditation room
Think about turning one of your rooms into a special meditation haven. A study, for instance, could be a great place to meditate, as could a corner of your bedroom or living room. But before transforming it into a meditation room, first you'll need to spruce up your special space and make sure that it's clean, tidy and well organized. Try to choose a place that isn't too noisy. Make it sacred with cleansing herbs, incense and comforting lighting. Choose colors and furnishings that inspire you to go further in your quest for centering and awareness. Prepare your space with a wish or a prayer that gives voice to your deepest meditation intentions.
Gardens
Mother Nature offers many sanctuaries for the resourceful meditator. Changing your meditation venue once in a while shakes things up in a good way – after all, "a change is as good as a rest." Fresh air, bird song, a keen awareness of interconnectedness and harmony with other living beings – soon the garden or park will be at the top of your best places to meditate list. Moreover, studies suggest that grounding, or coming into physical contact with the earth, offers surprising benefits for both physical and mental health.
Holy Places
Whether you're religious or not, meditating in a holy place is a great way to revitalize the spirit. Churches, temples and mosques are some of the sacred spaces that encourage introspection and communion. Some meditators seek out shrines because of their powerful spiritual energy. Look for a holy place with an atmosphere of serenity that's a good fit for your practice.
Buddhist practitioners often set their sights on places where the great meditators of the past have spent time practicing. These places are often located in remote areas that are alive with the energy of meditation. Whether caves in the mountains or hermitages in the forest, such spaces are considered a particularly supportive environment for practice.
Near rivers, streams and fountains
The banks of rivers and streams are some of the best spots for meditation. The gentle sound of running water is very well-suited for meditation – it calms the mind and inspires it to remain in the present moment. When you meditate near running water, allow the stream of thoughts in your mind to flow the same way – in a continuous, non-obstructed manner. Don't hang onto, judge, reject or cling to your thoughts. Simply acknowledge them when they appear and let them pass, like colorful autumn leaves floating by on a stream. Also, check out this article on meditating outside.
A rooftop, patio or balcony
If you're looking to tweak your routine a bit, rooftops, patios and balconies are great alternatives to your indoor meditation space. When safe and accessible, rooftops especially are prime spots for sitting. Just climb up, settle in and bask in the morning sun as you practice some silent meditation. This not only creates a sense of calmness and tranquility, it also boosts your intake of vitamin D. Make sure you take along some water and a meditation mat and cushion. And you can take along Mindworks' superb free online meditation course as well. You can also meditate on your rooftop at night and enjoy the sense of peace as the world continues in its incessant busy-ness below.
There you have it, 5 great places for meditation. There's surely one that works for you, and you can alternate as the spirit guides you! Think also about what time is best to meditate (hint: mornings are ideal) and finding the best type of meditation for you. Meditating should be enjoyable, wherever you choose to sit!