A Mindful Education: Meditation & Social-Emotional Learning Case Study
Category: Meditation for Students and Families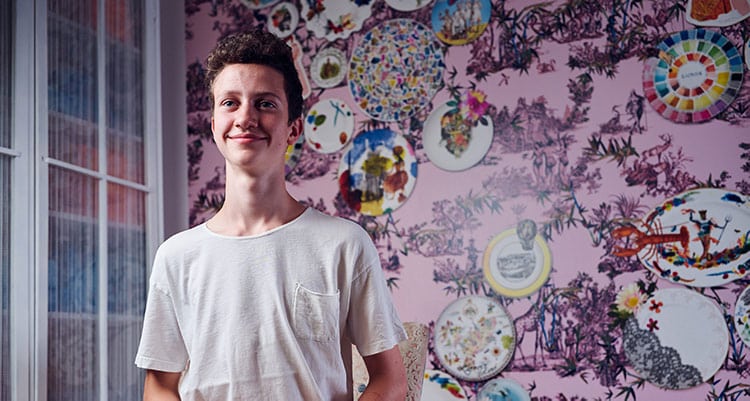 Meditation in High Schools – A Case Study
High school math and science teacher John Thomson has been practicing meditation for about fifteen years. When his school, Amy Biehl High School in Albuquerque, New Mexico, received a grant to develop an SEL—a Social and Emotional Learning Curriculum— for their students, John was asked to find ways to fold mindfulness into the program. Mindworks was a key resource for students and teachers alike during the experiment.
Mindworks spoke with John Thomson via video conference in February, 2020.
Mindworks: Hi John! What can you tell us about your high school? According to the website, Amy Biehl is a charter school that graduates "diverse learners and leaders who demonstrate the intellectual, social, and ethical habits to improve their communities. Our graduates are civic-minded, college-bound and career-ready."
John Thomson: That's right. Amy Biehl, a charter school in Albuquerque that's about 25 years old, offers a traditional four-year diploma pathway. We have a very unique humanities curriculum built around social justice movements and issues; our students are deeply involved in community organizations and volunteering.
When the school was looking to develop their Social and Emotional Learning Curriculum, they approached me. They didn't know exactly what the curriculum would look like, but they knew that it would involve mindfulness in some way. So I asked my meditation mentor for ideas, and he suggested Mindworks as a tool. I reached out to you guys and you and I had some great conversations about how to bring that space into students' lives.
We encouraged our teachers to use the Mindworks app through incentivization programs: once they'd done a certain number of mindfulness-related activities with the students in their advisory class, they'd get some pocket money to spend on a rewarding activity together—say, coffee or lunch. This was available to every teacher who tracked their meditation activities on a tracking form that could provide us with data at the end.
We then paired that with two other large components of the program. We bought a social-emotional support curriculum and utilized its lessons in the advisory space as well, and we set up cohort field trips to different sites, usually natural locations. We have some very unique and beautiful natural locations around Albuquerque.
MW: When you talk about "meditation activities," what might they include?
JT: We literally just had students sit down and played the videos and audio from Mindworks app—the guided meditations. I primarily used the M7 guided meditations.
MW: And the students would sit still?
JT: Yes and no; we found that there was a little bit of a threshold for that. If we did it on a regular basis, that is, if the activities were administered at enough frequency, the kids normed it and it became very successful. But we found that trying it once or twice wasn't enough to get them still. The regularity made the difference.
We've utilized the holistic student assessment from the Pear Institute–it's a really well-known social-emotional learning barometer–to assess the progress that our students were making. We've administered that survey four times and have found some really statistically significant results in terms of the program benefiting our students socially and emotionally.
There are about 12 different categories of what students think their strengths are, and those increased overall by about 5% to 10% across all students. And then there's a challenge category that includes about 10 or 12 areas of challenges, and they all dropped by a much more significant amount–about 30%. So students are feeling much less challenged and much stronger socially and emotionally.
We're seeing really a dramatic improvement across the board. Through the survey, students are categorized in terms of their need of social-emotional support. There are three categories, tiers one, two and three. Tier one is just your normal student–no problem, not worried about them. Tier two is for students who might have some issues socially and emotionally; maybe we should look closer. And tier three is like, wow, we really need to check on this kid; socially and emotionally they're having some trouble. Those categories have been a really neat data source as well–we've watched kids move out of the tier three category entirely and into either tier two or tier one following the administration of meditation.
As far as the rise in resiliencies and how much of their improvement can be attributed to the Mindworks program, it's hard to say, as this was just a small piece of the larger program of Social-Emotional Learning that we put into place, but I would say that it was a vital component. It brought mindfulness into the classroom and the lives of our staff and students in a very approachable and structured way.
MW: Where did you meditate? You told us that cushions and zabutons were bought for the project. Where did you keep them?
JT: We're in this really neat old building–one of the oldest buildings in Albuquerque—that's on the national historic registry. The elevator goes right down to the basement and the cushions are in a nice space that we created for them there. It's really easy to go down and have each of the students grab one and carry it right back up to the classroom. It takes about five minutes.
Then we'd sit in the classrooms, either on a cushion on the floor or on a chair. Ten minutes of meditation is about average. The M7 guided meditations are all about ten minutes long, and everyone had access to them. We didn't want to be dictatorial about what kind of meditation should be done and there were other possibilities for mindfulness activities as well. They could use a different guided meditation or do a simple watching-the-breath meditation. One of the teachers chose to do a single minute of complete silence at the beginning of every class period. There was even a group of teachers that did a squatting activity based on a YouTube video! It's a form of mindfulness because students would be instructed to focus on how much it hurts to do a squat (laughs)! But actually I think that most teachers utilized the Mindworks app because it was what was on offer and it's what they were directed to and incentivized to utilize.
MW: Were any of your teachers completely unfamiliar with meditation?
JT: We're exceptionally staffed–we have the pleasure of having a really mindful teaching staff. A few of the teachers had already been doing some type of mindfulness activity in their classrooms, and I think that none of them were completely unfamiliar with this as a strategy that could benefit students.
MW: And how did the kids like it?
JT: They're high school students, so if you ask them, "What did you think about these mindfulness activities?" they're probably going to tell you, "Well, they're stupid," or whatever. But then their experience of how they feel about themselves was, I think, the most important thing. As one student put it, "It kinda helped me focus more. It helped me just let all the old stuff go."
From my experience in my advisory classroom, the kids are really going a lot deeper with the activities than in the beginning. It's become something of a habit for us; they seem to really appreciate just having that space and time to be quiet and calm away from the chaos of the school day.
MW: John, it's been a gift to spend time with you and learn about how your school got such clear, positive results from the program. We're thrilled that Mindworks was part of the experiment. To wrap up, would you please share something about your own experience with meditation?
JT: "We cannot benefit others while confused or disturbed ourselves" is a mantra that I strive to live by. Meditation is something that has guided and inspired me to maintain a positive balance in my life. I have learned to develop patience, generosity, diligence, joy, compassion, and greater wisdom to be able to deal well with difficult situations, as well as celebrate the small blessings that life offers up.
When we experience a surplus in life, it's much easier to turn our attention to the needs of others. Meditation has helped me develop and accumulate the merits necessary to be successful as an educator. I am certain that education is, as Nelson Mandela said, "the most powerful weapon we can use to change the world," and meditation is a tool that every educator could benefit from utilizing, in both their personal and professional lives.