Forgiveness Meditation Practice
Category: Love & Compassion Meditation | Meditation for Addiction Recovery | Mind Trainer Articles | Popular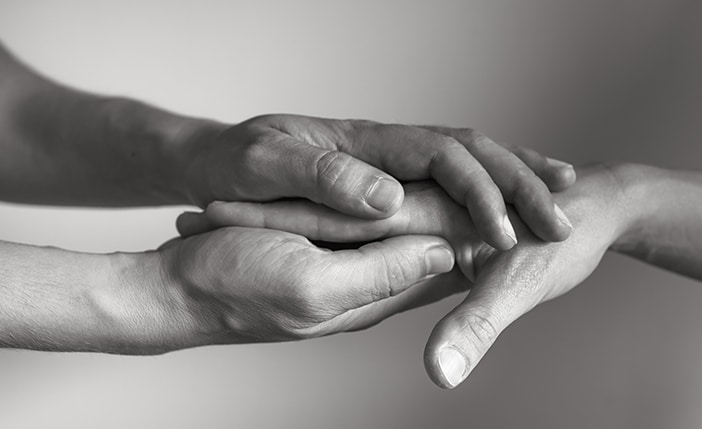 Healing relationships is key to addiction recovery
Without relationship, there is no practice, there is no recovery. Finding a way to heal relationships and the pain that can get in their way is core to our recovery. That's why we begin our meditation by recognizing what was done and the pain that it caused. If we're offering forgiveness to someone who had hurt us, for example, we could say, "Recognizing the pain that has been caused, I offer you forgiveness." This is our core principle if we're going to move forward towards forgiveness and reconciliation: we acknowledge the pain, we acknowledge the harm.
Likewise, we acknowledge our own mistakes. This is the place where we can join with others, to see their mistakes and have compassion for their humanness. When we have self-compassion, when we acknowledge the harm that we have caused others as a result of our own suffering, confusion, greed, and hatred and ask for forgiveness, I think this really primes the compassion.
Then, in compassion meditation, we can invite somebody in who has harmed us; we can begin to see their confusion, their own lack of understanding.  And we forgive that. We don't forgive the action, we don't have to say that what they did was right. Instead, we say, "What you did was harmful. But I'm willing to forgive you for being the confused, hurt being that I also recognize in myself."
Forgiveness meditation provides us with a way forward where we don't get stuck in the narrative. We've all seen people who are stuck in that narrative, and we may also see this in ourselves, in an internal narrative that keeps on coming up over and over again. In our stuckness there is a healing that needs to happen.
With guided forgiveness practice, we can let go of the story, let go of the details and rest in a phrase that expresses the compassion in our mind: "I offer you forgiveness." The power of this practice is that we don't have to believe it in order for it to work–we don't have to actually feel forgiveness at first. Oftentimes what comes up at first is a lot of resistance, a lot of anger, a lot of pain, and this practice holds that; it holds what is underneath the story.
Healing is something that our body naturally does, if we can give it the conditions to heal. By holding these phrases and letting go of all the details, things start to move through us. A healing meditation allows us to listen to our pain and the pain of others, which is where we come together. It opens up the space that allows for reconciliation.
We come together when we can acknowledge what is broken and difficult and hurt within us. When we can be met in that space, we can move forward. For people struggling with addiction, this is often a very emotional experience, and it can be too much. I encourage people to be very gentle in this process, to take it slowly. Start with the body as a resource and come back to it as needed; move into it, and also have the wisdom to move away from it if it becomes too much. Maybe not start with the biggest, baddest forgiveness that needs to occur. Maybe start with something accessible–forgiving my son, for example, for his sixteen-year-old-ness.
Often in early recovery there is so much hurt. If I see that somebody is really struggling with forgiveness practice, sometimes I'll encourage them to do this practice just for themselves. To start with "I offer myself forgiveness for the harm that I've done based on my actions, my words, my thoughts and from my lack of action." Just starting there, there's plenty to work with. It doesn't have to be complicated. Just, "I forgive myself; I forgive you, Joseph." And in that space, if I can start to open up space of forgiving myself, it starts to open space for others. If I can be a little softer with myself, I find I can be a little softer with the world.
Anger is going to come up and we don't know when. Emotions have their own time. And we don't know when our hurt is going to arise–it surprises me constantly. Maybe I hear something on the radio, maybe I'm reminded of something. And there it is, like an old wound, like the Fisher King, it's still there. When it arises, can I be willing to say, "Yes. I will listen."? Just know that I'm here to listen. I think that this is a wonderful statement of practice.
It's why I find this mindfulness practice so crucial. I practice so that I'm ready to listen when emotions arise in their own way. I make the space and see who shows up. It's never who I think it is going to be, and it's always exactly what I need to work with. Recovery and practice is a process that unfolds in its own time. I can learn to trust that process, give it some time, give it some space. One thing I've learned is that if I can stay out of the reactivity of the moment and hold the spaciousness, the very thing that I thought was so important often resolves itself.
It's well-known that meditation is beneficial to those in addiction recovery. What a daily meditation practice has given me is the space to recognize when something arises, whatever that something is, and the practice of coming back, coming back to what is here now. It allows me to come into relationship with my experience and recognize it in a way where I don't even have to see it as mine. There's an experience that arises: I'm experiencing it, but I don't have to believe everything that comes up, in the sense that I don't have to react to it. I can give it some space, so that when it comes up, I have a chance to come into relationship with it. And in that movement, I have an opportunity to create deeper relationship, and cause less harm to myself.
I believe that community is the whole of the practice. As a human being, relationship with others is what allows me to have recovery; those moments of connection build recovery. It's in those moments that I'm able to stay in wise and skillful relationship with my fellow human beings as we all struggle through this. Without the ability to connect with others, I will fall into my pain story. I will fall into my habituated pattern, which is dangerous ground. It isolates me and removes me from my ability to stay in the grounding of the forgiveness of the heart, of compassion.
Practicing and coming back to whatever the object of meditation is moves me from reactivity to curiosity. It teaches me to stop and pause when agitated. It allows me to enter into relationship, instead of being dominated by conditioning. This is what is meant by not identifying with what arises, of not seeing it as something that is "mine." Seeing it as "mine" means being lost in it; there's no perspective. Practice gives me some perspective. This is really important. I'm sitting there watching stuff arise, not getting caught in it, and I see that its very nature is to arise and pass away. How could it possibly be mine, if that's its nature? Any more than my ear wax is me or mine?
When I don't take things so personally, I can meet the world with loving-kindness and compassion. Kindness and compassion are really the only really wise response to anger and hatred and resentment, to all of the things that pull me away from recovery into a space of desperation. This wise response gives me the choice, the spaciousness I need to stay in addiction recovery, because I have resources: I'm resourced. My body has become a resource, my experience has become a resource. And these resources have given me a peace and well-being that are sustainable and allow for deeper recovery.
Guided Meditation on Forgiveness by Joseph Rogers is available on Mindworks Addiction & Forgiveness Course. For addition resources related to Addiction Recovery by Mindworks check out the following:
Joseph has been a core teacher for Refuge Recovery, a non-profit organization grounded in the belief that Buddhist principles and practices create a strong foundation for a path to freedom from addiction.